Drums on Paper: With the Neighbors
Our Artist-in-Residence: Authorized to Work in the U.S. Press
Closing Reception: Sunday, October 15th, 3 – 5pm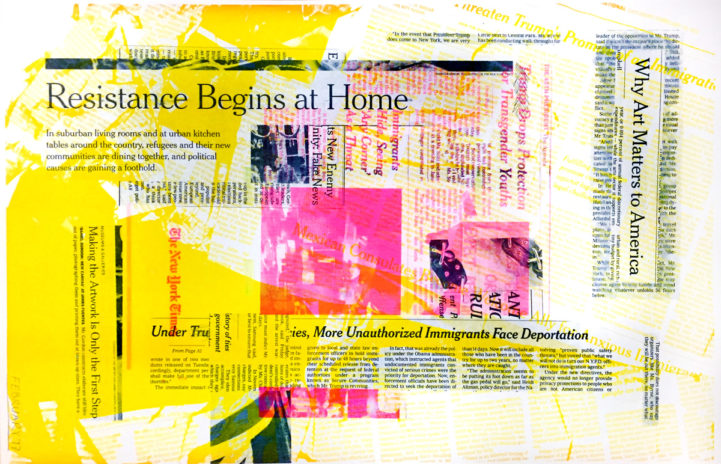 DRUMS ON PAPER: WITH THE NEIGHBORS
September 22 – October 15, 2017
Opening Reception: Thursday, September 28th, 6 – 8:30pm
Closing Reception: Sunday, October 15th, 3 – 5pm
Ground Floor Gallery has invited the local, Park Slope-based printing studio, Authorized to Work in the US Press, to take over our gallery space for the next month!
Drums on Paper: With the Neighbors is the 4th version of the Drums on Paper series by Authorized to Work in the US Press. For this round, the studio's founder, artist Cem Kocyildirim, will print new Risograph work from the gallery and encourage our neighbors to see his process and stunning prints! Neighbors of all ages + artistic backgrounds will also be invited to participate in the exhibition through artist-led printing workshops from the space.
The show focuses on the everyday relations between neighbors and neighborhoods. Cem will be collaborating with other artists in the space and running workshops for the public. He will also take his Riso Bike (a project he initiated last summer) out on the streets to continue reaching other neighborhoods throughout New York City. Look out for the show "on the go" in unexpected spaces!
Cem Kocyildirim is well-versed in a process called Risograph. Invented in Japan in the 1980s, the Risograph's intended use was in offices, but it quickly became an artist's tool of the 21st century. They can print in vibrant colors, and photos of the work don't do it justice.
We hope to see you at the closing party, in the gallery or out and about during the run of the exhibition!