I'd Rather Be Blue
Welcome our Guest Curator, Fiercely Curious!
"I'd Rather Be Blue" Opening Friday, February 3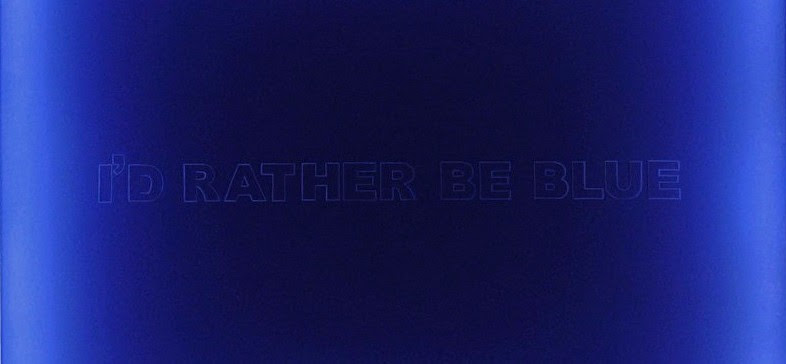 "I'd Rather Be Blue"
Curated by Fiercely Curious
February 3rd

,

6-9pm
In the curators' quest for a show to invigorate and enlighten the senses, Matilde Alessandra and Edward Granger were obvious choices. These two artists communicate a vibrant energy through not only their hand and line quality, but also their study of light and progressive / regressive forms. Everything becomes about depth whether it's layering or leaving empty portions of the work to twist and wind you down luminous paths. 
Their energetic brush and pen strokes convey an immediacy that is so fitting to the urgency in our political climate – doing and undoing.
The color blue is also an expression of trust, loyalty, wisdom, confidence and strength. It is calming – emanating peace and tranquility.  The association with the winter blues also speaks to our current moment, in several respects. 
It is the curators' hope that the playful and optimistic spirit of the work will override these somber associations. 
The title for this show comes from I'd Rather Be Blue, a light wall sculpture by Matilde Alessandra (seen on the homepage).
BIO: 
Erin Przekop is the creative spirit behind Fiercely Curious, a curated online boutique of over 40 Brooklyn based artists and designers. With a belief in sharing the stories and processes of these hand picked talents, Fiercely Curious brings you closer to these artist's work through pop up gallery shows and into their studios with tours and private visits where the magic really happens.
Erin received her BFA from the University of Connecticut and continued her studies at the Fashion Institute of Technology in New York City and at Polimoda Istituto Internazionale in Florence, Italy. She pursued a creative career as a fashion designer working in Italy, France and New York City. When Erin is not visiting artist's studios, galleries and museums with her young daughter in tow, she's working away on her own creative projects and out enjoying the fresh air.
As part of their curatorial residence with Ground Floor Gallery, Fiercely Curious Curator, Erin Przekop, is offering artist portfolio reviews: 20 minutes for $20. These are open-ended sessions in which artists are invited to share an online portfolio of work and ask for specific or general feedback.
Email curator Erin Przekop to book a slot during one of the times below: erin@fiercelycurious.com.
Thursday, February 9: 2 – 6pm
Friday, February 10: 2 – 6pm
Friday, February 17: 2 – 4pm
---
Gallery Hours: 
Thursdays & Fridays

2 – 6pm
Saturdays

12 – 6pm
Sundays

12 – 5pm
Closing Reception
February 17th
6 – 9pm