OPEN CALL: OUR HOLIDAY SHOW "GIFTS BY ARTISTS"

We are thrilled to announce the open call for our holiday show, Gifts by Artists!  
It's our 5th annual holiday show and we're on the hunt for small, original art objects in all media that will be sold as gifts for under $100. We are open to anything from small paintings to tote bags, jewelry and sculpture by artists! 
Submission Deadline: Sunday, November 19th 
You will be notified of your submission status the week of November 20th. 
Art Drop-off + Installation: Thursday, November 30th 
Gifts by Artists Opening Reception:  Friday, December 8th, 2017
The exhibition will remain on view through Sunday, December 31st. 
Please submit 2- 5 images (no more than 6 MB TOTAL) with caption, price and a 2-3 sentence description to info@groundfloorbk.com. Subject: Gifts by Artists Submission. 
Ground Floor Gallery receives the standard 50% commission for each sale (we are open to negotiation in extenuating circumstances).
We look forward to connecting you all with new art lovers this holiday season!  No phone calls please.  All inquiries:info@groundfloorbk.com
 **Image: Artist Jessica Zucker of Paper Arrows Studio.
P.S. 118 The Maurice Sendak Community School Art Benefit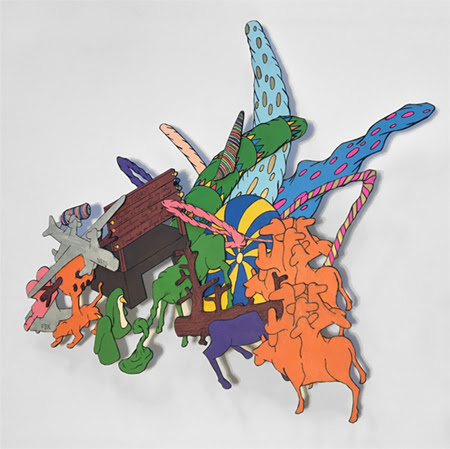 On October 18, an art benefit for P.S. 118 The Maurice Sendak Community School will be held at the Ground Floor Gallery from 7–9 pm at 345 5th Street in Park Slope. Organized by artists and parents Chris Bors and Ketta Ioannidou, the curated selection includes many emerging, established, and mid-career artists including Deborah Brown, Amanda Church, Daniel Davidson, Gary Petersen, Tom Sanford, Nicolas Touron, Lane Twitchell and others from the New York City area and beyond. All tickets are $200–$225 in advance ($250 night of) and guarantee an original artwork, which will be chosen in raffle fashion, where the first name picked will get first choice until all works are chosen. Tickets include admission for two, complimentary wine bar and dessert selection. Money raised will be donated to the PTA and help fund the visual arts curriculum at PS 118, currently served by Studio in a School residency programs, with a $50 honorarium paid to each artist. With only 40 tickets sold, don't miss out on this exclusive event and a chance to go home with an original artwork.
Artists: Fanny Allié, Matt Barteluce, Jackie Battenfield, Anna Bida, Chris Bors, Deborah Brown, Alva Calymayor, Karlos Cárcamo, Eun Young Choi, Amanda Church, Jeremy Coleman-Smith, Daniel Davidson, Mike Estabrook, Caroline Falby, Fred Fleisher, Lenio Grohmann, Carl Gunhouse, Sofia Hager, George Horner, Ketta Ioannidou, Roxanne Jackson, Tricia Keightley, Ambre Kelly, Diana Kinglsey, Daniela Kostova, LoVid, Tricia McLaughlin, Mary Meehan, Anna Ortiz, Judith Page, Gary Peterson, Rachel Philips, Gustavo Prado, Tom Sanford, Janice Sloane, Gabriel J. Shuldiner, Russ Spitkovsky, Jeremiah Teipen, Nicolas Touron, Lane Twitchell, woolpunk, and Aaron Zimmerman.
P.S. 118 The Maurice Sendak
Community School 
Art Benefit 
Wednesday, October 18, 7–9 PM
VISIT US AT THE AFFORDABLE ART FAIR NYC!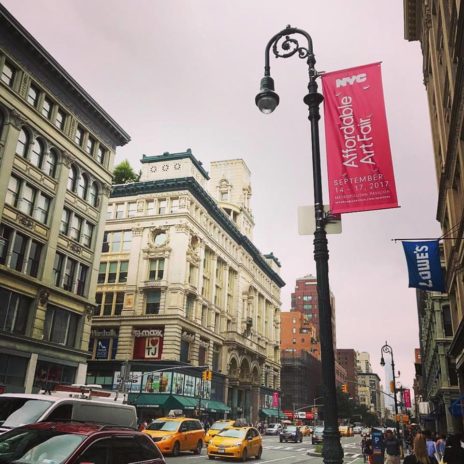 We are excited to announce our participation in the Affordable Art Fair NYC from September 14 – September 17, 2017!
Look for us on the 2nd floor in Booth 2.13 showing work by artists Ai Campbell, Miska Draskoczy, Veronique Gambier, Peter Gynd, Betty Hart, Barbara Marks, and Sui Park.
We are one of 67 national and international galleries selected to show original artwork priced under $10,000 (with more than half of the works priced under $5,000).   See you soon in Manhattan!
Affordable Art Fair
The Metropolitan Pavilion
125 West 18th Street
New York NY 10011
OUR CO-OWNER, KRISTA SCENNA, EXPLAINS HOW TO START AN ART COLLECTION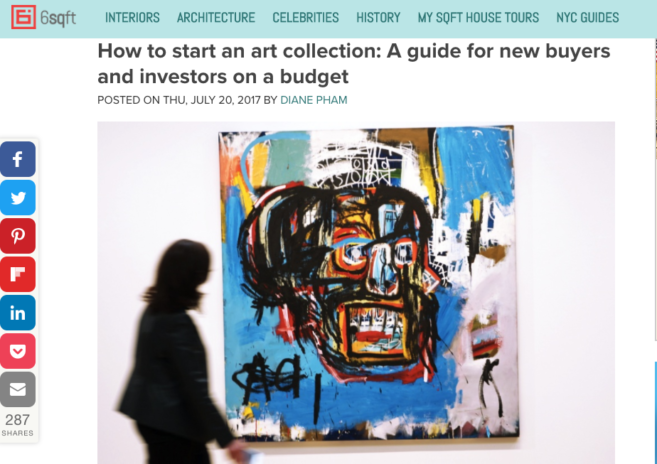 OPEN CALL: OUR MAIL ART SUMMER SHOW RETURNS!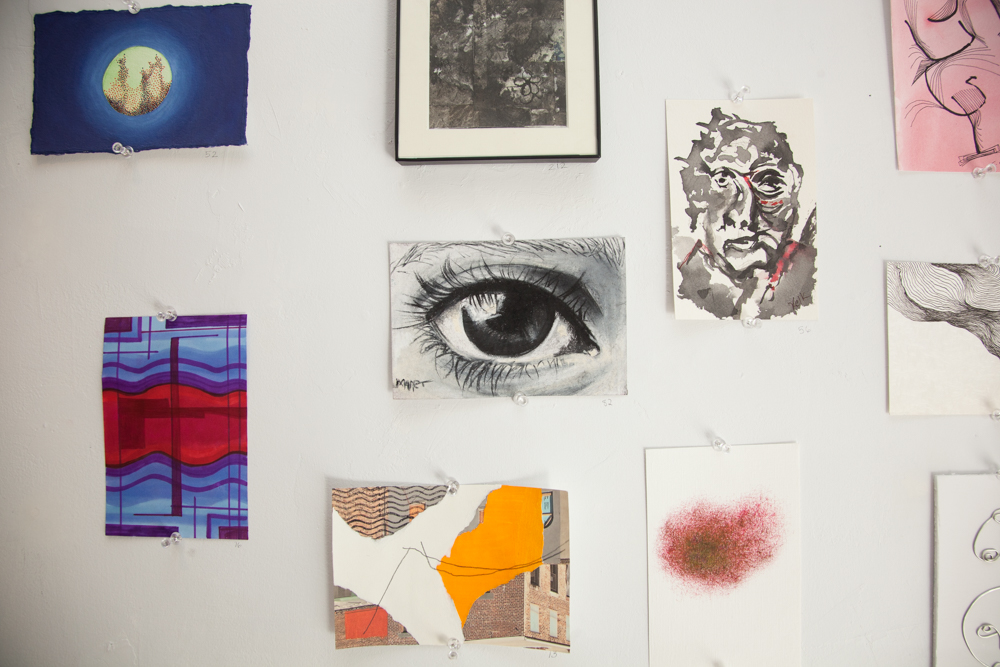 We are thrilled to announce the return of our summer show, "Priority Mail": Ground Floor Gallery's mail art biennial. A sweeping survey of small, original artworks created by contemporary artists from across the globe, "Priority Mail" is a grand and inclusive gesture for our intimate gallery space in Park Slope, Brooklyn: ALL of the first 250 submissions mailed to the gallery will be accepted and shown in the exhibition!
Artists, please carefully review the guidelines below.  Work that does not adhere to the guidelines will not be accepted.
In the spirit of inclusion and accessibility, all artworks will be priced at $100 and 10% of profits from the exhibition will be donated to our friends at Arts Gowanus: the dedicated, local organization that advocates for our vibrant community of artists and creatives.  
We look forward to showing artists from near and far while supporting our local talents as well!
GUIDELINES
NO phone calls or emails please.  Please Tweet any and all questions to @groundfloorbk and we'll respond promptly.
All work must be sized 5" x 7" (up to 6" x 9" if framed). FYI: framed or otherwise "ready to hang" work typically sells best.
Only ONE submission accepted per artist
You MUST have your name, email, phone number, artwork title, materials and year ​legibly written / printed on the back of your artwork.
Before you mail in your work, please email us a hi res photo (under 2 MB) of your completed artwork with caption (name, title, materials, year and 1 sentence about the work) to info@groundfloorbk.com.  We will use this image for documentation and promotion.
All work will be priced at $100.  The gallery ​receives 50% commission.  10% ​of gallery profits will be donated to Arts Gowanus.
The exhibition will be on view from Friday, July 14th – August 20, 2017. The opening reception will be Thursday, July 20th, 6-9pm.
DO NOT drop off or email submissions.  ALL work must be mailed to the Ground Floor Gallery PO BOX from June 12 – July 18, 2017. We must receive the work by July 18th in order to show your work in time for the opening on July 20th:
Ground Floor Gallery
PO Box 150604
Brooklyn, NY 11215
If you would like your (unsold) work returned to you, you MUST include a self-addressed stamped envelope.  All remaining unsold work will be added to our flat files or donated to charity.
Again, please Tweet any inquiries to @groundfloorbk.
Thank you!

 
Endangered Monkeys and the Legacy of the Vietnam War at Ground Floor Gallery
The artist's exhibition, on view through March 26, centers on an endangered species of monkeys in Vietnam and a US military document from 1969.  MORE HERE.
"MARKED URGENT: an Exhibition in Defense of Free Press" FEBRUARY 24 – 26TH, 2017

UPDATE: We raised $1,000 for the Committee to Protect Journalists! THANK YOU for your support of this cause and our talented artists. 
ICYMI: Due to the popularity of this exhibition, we've created an online album of available art works for #FreePress HERE. 
Ground Floor Gallery
"Marked Urgent" – An Exhibition in Defense of Free Press  
February 24 – February 26, 2017
Opening Reception: February 24th, 6 – 8:30pm
A Portion of the Proceeds Supports the Committee to Protect Journalists
"Congress shall make no law respecting an establishment of religion, or prohibiting the free exercise thereof; or abridging the freedom of speech, or of the press; or the right of the people peaceably to assemble, and to petition the Government for a redress of grievances."
Since November 9th, 2016, it has not been "business as usual," here at Ground Floor Gallery.  Like many of you, we have been deeply affected by our current political climate and are even more committed to our mission of connecting emerging, underrepresented artists to new audiences.  Now, we are also committed to using our platform to support organizations that protect our precious and hard won civil liberties & civil rights.  
We have been closely following the current administration's dismissive treatment of one of our most powerful constitutional rights: freedom of expression as protected by the First Amendment, namely, free press and the recent attempts to silence and delegitimize their voice.  Branded as "the opposition party" and purveyors of "fake news", the media has been aggressively undermined by the Trump administration in an attempt to minimize their credibility and influence over the American public.  Now, more than ever, we need to empower journalists to hold our government accountable and to provide us with the facts we need to remain informed and involved citizens.
As passionate arts professionals vested in critical thought & freedom of expression, we feel compelled to respond.  We invited artists to submit work on paper associated with any and all types of correspondence and communication: we're talking letterhead, post-its, envelopes, postcards, memos, newsprint, legal pads, posters, book pages, etc. Be creative but keep it old school (we all need a break from Facebook every now and again)!  
Their content did not have to be overtly political!  The medium is the message. 
Each original artwork is priced at $75.  $25 from each sale will support the Committee to Protect Journalists, "an independent, nonprofit organization that promotes press freedom worldwide" and defends "the right of journalists to report the news without fear of reprisal."  More info: cpj.org / @pressfreedom
IMAGE: "Editorializing" series. Artist Spencer Merolla.
PARTICIPATING ARTISTS:
Andre Kan
Allan Bealy
Callie Hirsch
Chantara Ellis
Daniel Ayat
Dara Oshin
Deidre Mackenzie
Dimitri
Dominic Quintana
George Horner
Ian Trask
James Rose
Jennifer Hoffman-Williamson
Jenny Brown
Jessica Hargreaves
John Richey
Joseph Barral
Kate Fauvell
Kenneth Nelson
Kristin Reed
Leah Harper
Linda LaBella
Mari Renwick Cox
Matthew Scott Gualco
Michael Ensminger
Miriam Ancis
Nadia Awad
Nic Koller
Nicky Enright
Patrick Jewell
Patrick Scheid
Raul Barquet
Regi Mueller
Robert Zurer
Sara Jones
Shana Wolf
Shemu Peters
Spencer Merolla
Zoe Frederick
                AUTHORIZED TO WORK IN THE US PRESENTS DRUMS ON PAPER III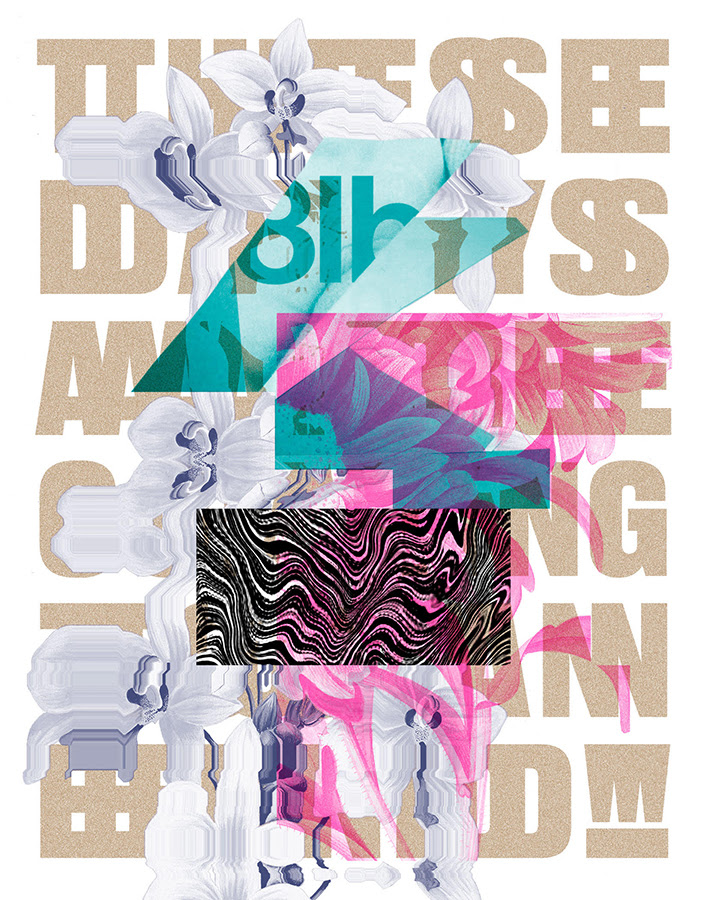 We are full on production mode for our third round of Drums On Paper show where you can find affordable art prints from different artists, all around the world. For this round, we invited 17 artists to celebrate the beginning of 2017. We will open our doors on January 27 at 6:30pm at Ground Floor Gallery, and we would love to see you there. You can also see the show the weekend of Jan 28-29.
Meet Our Artists-in-Residence, Alexa Williams + Crystal Gregory!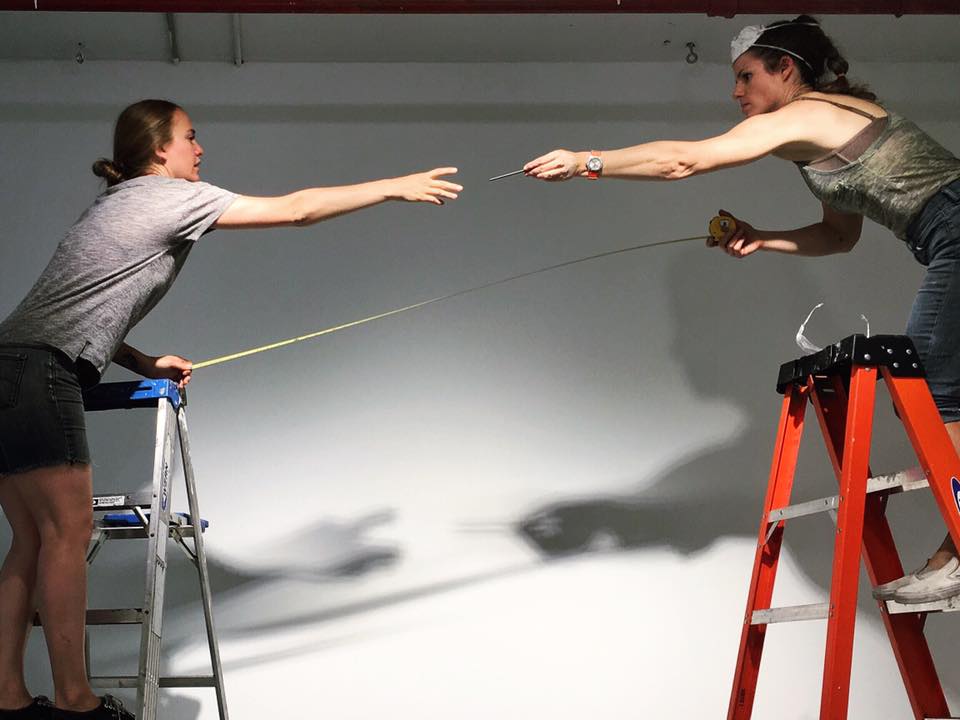 In PHASES, artists Alexa Williams & Crystal Gregory will use Ground Floor Gallery as a performative platform for their new, collaborative project which leverages the architecture of the gallery to support a site-specific, floor-to-ceiling loom, dyed with turmeric.  Powdered graphite and white sand will be used to cast the woven textile in concrete.
The final pieces will hang on the gallery walls, completing the arc of their residency together.
Phase 1: DRESSING THE LOOM: hundreds of cotton strands stretching from the gallery's floor to ceiling
Phase 2: DYEING: onsite solar dyeing in turmeric baths
Phase 3: WEAVING: site specific spatial weaving
Phase 4: CASTING: imbedding the woven textile into a poured concrete picture plane
Thursday, August 25, 6-8pm: The Opening (the installation of the 8ft X 8ft loom)
September 11, 4-6pm: Closing Party: (The finished pieces hanging in a traditional gallery format)
Open Call: #newcollectorbk: The Print Edition
Dear Artists,
We love prints and so do our new art buyers!
This summer, we're excited to curate a show exclusively featuring your limited edition prints of all types (lithographs, woodblock, linocuts, etchings, monotypes, etc.)
Sorry, no photography this time around. We're accepting framed works that are ready-to-hang and reinforced, ready-to-display unframed works for our flat files!
SUBMISSION GUIDELINES:
-Please email info@groundfloorbk.com with an image for each piece you wish to submit. Email subject must be: Summer Print Submission. 
-Images must be less than 5 lb and labeled with your name, i.e. JohnSmith_Print.jpeg
-Include an image list in the BODY OF YOUR EMAIL that includes: your name, title, material, size, year, and price. -Also include your one paragraph bio in the body of your email.
-Lastly, please include your Paypal transaction number for your $5 submission fee.
IMPORTANT DATES: 
Submission Deadline: FRIDAY JUNE, 24TH 
We will inform you of your application status the week of June 27th.        
–Install: Tues. 7.12.16 Opening Reception: Wed. 7.13.16 Closing Reception: Thurs. 8.11.16        
–Deinstall: 8.12-8.14 during gallery hours.
*IMPORTANT: You must be present for the installation and deinstallation or have someone here in your stead.
PAY SUBMISSION FEE HERE. If this link does not work, simply send your payment to krista@groundfloorbk.com: 
Visit us at BKLYN DESIGNS, May 6 – 8th! Booth 29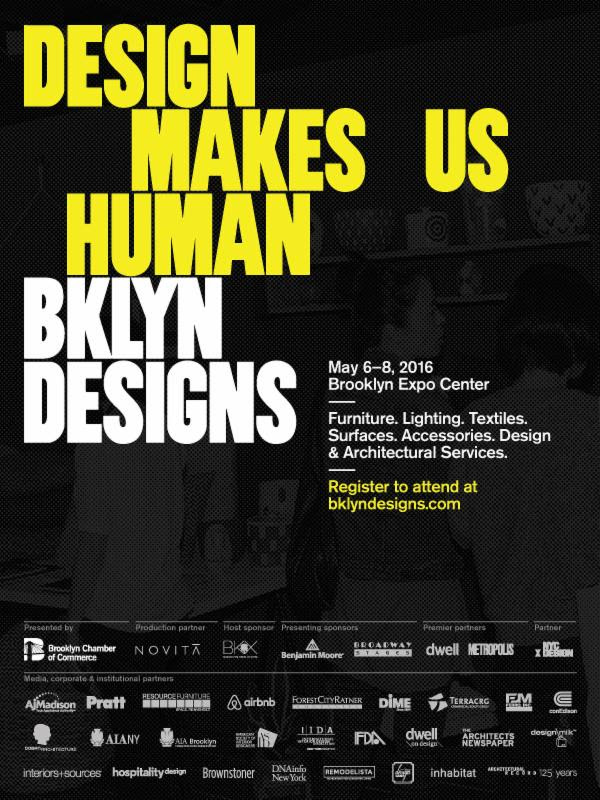 Mini-Matisse B.Y.O.A. (Art!) Weekend – May 7 th – 8th 
WHO: Park Slope's only commercial art gallery, Ground Floor Gallery, connects new art buyers with local, emerging artists through curated exhibitions and events. AND Private Picassos: our artmaking partners who provide custom art lessons and activities throughout the Tri-State area and at their Art Studio in Park Slope, Brooklyn.  Their program improves kids' verbal and visual vocabularies and helps them discover new and exciting art techniques. We invite Brooklyn-based families to enjoy a weekend of art close to home! WHAT: Ground Floor Gallery, has teamed up with the dynamic art studio for kids, Private Picassos, for this year's Mini–Matisse Weekend! 1) Drop by Private Picassos to have your child make their one-of-a-kind masterpiece and then B.Y.O.A. (Bring Your Own Artwork!) toGround Floor Gallery, a few blocks away, to hang it on our gallery wall, snap a photo, and leave with a Mini–Matisse goody bag with treats from Artists & Craftsman and Nunu Chocolates!   2) Original and affordable artwork by moms in our artist network will also be on view as part of the Mother's Day festivities!   WHEN: Saturday, May 7 – Sunday, May 8, 10am – 4pm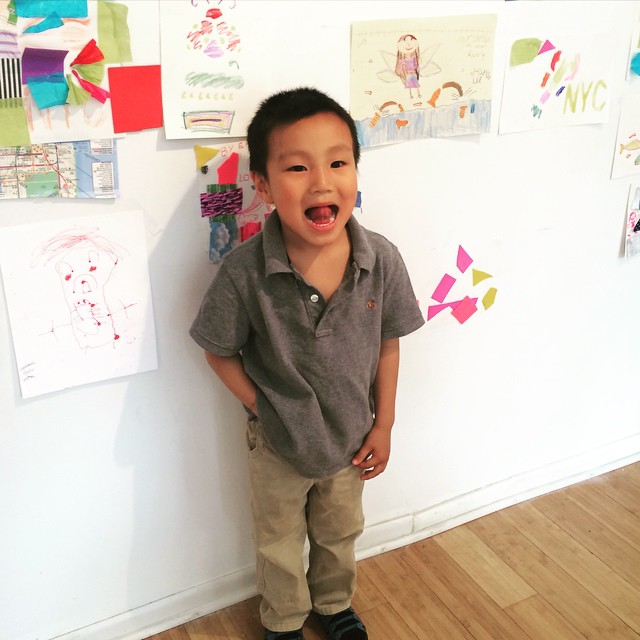 Press for our Co-Director, Krista Saunders Scenna's SPRING / BREAK Exhibition!
"SPRING / BREAK: A Sprawling Alternative Art Fair that Delivers."
By: Jillian Steinhauer for Hyperallergic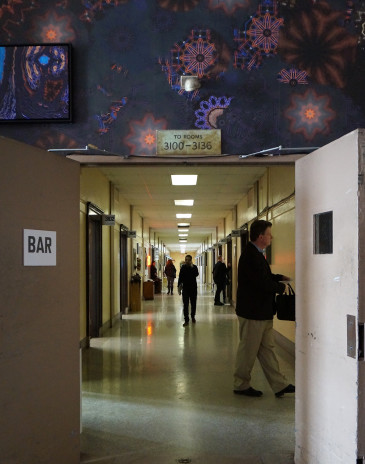 Photo: Jillian Steinhauer for Hyperallergic
                   The Art F City Survival Guide to the 2016 Armory Art Fairs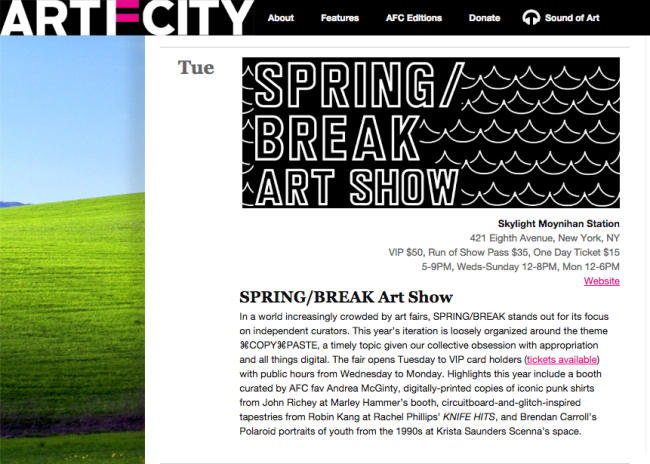 Save the Dates!  March 1 – 7, 2016
Ground Floor Gallery, Co-Owner, Krista Saunders Scenna, has been selected as a curator for SPRING / BREAK Art Fair during Armory Arts Week!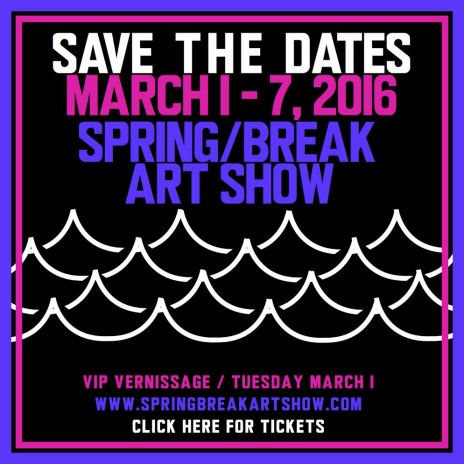 A Renewed Repudiation of Time
Patrick Scheid Guest Curator Kimberly Marrero A durational performance piece, coupled with a photographic installation, stemming from the ever illusiveness of time and the preoccupation of time as a recurring exploration for poets, philosophers and artists throughout history. On January 9th, 2016 beginning at sunrise the artist will occupy the gallery for a full 24-hour period in an uninterrupted performance piece lasting until first light on the following day.  During this time Mr. Scheid will interact with a single vintage clock amidst images of reproductions of clock faces, which will line the gallery walls.  The images representing time-pieces of varying shapes, origins and sizes, from early ancient clocks to contemporary.  Each clock is time-fixed at a different hour and positioned in chronological order based on a 24-hour cycle, referencing the prevalence of time throughout history, Visitors will be completely enveloped in moments of time; a real time performance and objects of suspended time, navigating somewhere in between. Spectators may spend as long as they like in the performance.  This exhibition offers a half-glimpse at the "ecstasy and possible suggestion of eternity with which that night was not parsimonious", as Borges wrote, if only for a few precious moments. Opening: Friday January 8th, from 4-6 Performance (24 hrs): Saturday the 9th, beginning at sunrise (7ish) and continuing until sunrise the next day. 
Recent Press!
Racked NY: "New York City's Best Pop-up Holiday Markets to Shop this Season" Artist Aki Kano in the Brooklyn Based "Personalized Portraits for People Who Love Your Kids" Feature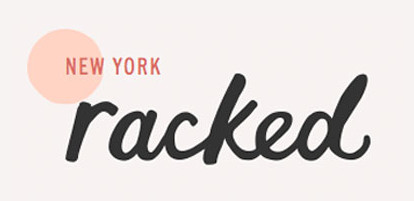 NY1 Recommends #newcollectorbk / Gifts by Artists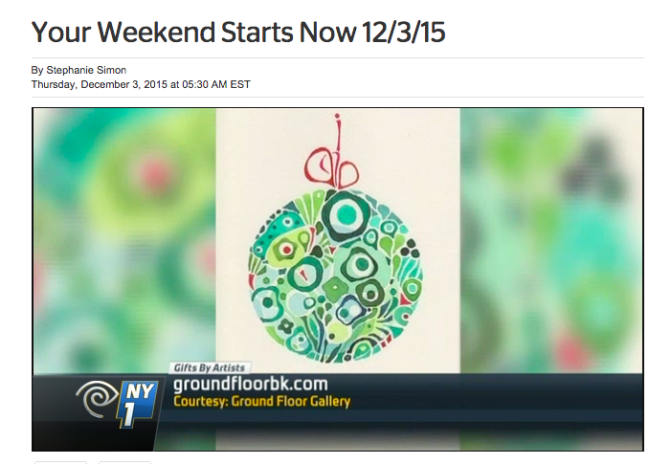 CUSTOM CHILDREN'S PORTRAITS BY ARTIST AKI KANO
Local painter (and Park Slope mom!) Aki Kano, creates

custom

 watercolor portraits of kids as a truly one-of-a-kind gift or addition to the family art collection.  Portraits range between $125 – $350 depending on size and number of children depicted.
Kano will be taking orders for her

custom

portraits from the gallery between

1 – 4pm

 this Sunday,

December 6.
Ground Floor Gallery / 343 5th Street / Park Slope, Brooklyn
Meet the artist and discuss your order in person at the gallery or email us  at info@groundfloorbk.com and we'll take it from there!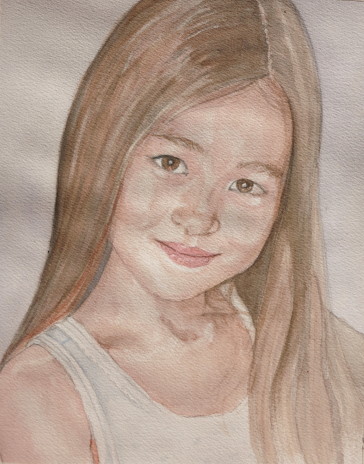 #newcollectorbk – Gifts by Artists – OPEN CALL
Gifts by Artists for the Holidays This winter, we are launching #newcollectorbk, a blog expressly for new art buyers, which will feature new collector interviews  and emerging artists in our network.   We are pleased to announce an open call for our blog launch holiday party #newcollectorbk – Gifts by Artists!   We are looking for small, original works that will be sold as gifts for under $100. We look forward to connecting you all with new art lovers this holiday season!   Submission guidelines:
Name, email and phone number

1 – 4 images of your submission (no more than 3MB each) with title, date, materials, year, and price of the work. Artists may submit multiple pieces.

There is a $5 submission fee. Please pay here and include your PayPal transaction ID in your email submission:
   Submission Deadline: November 1st Artists will be notified by November 8th. Art Drop-off + Installation: Monday, November 16 – Tuesday, November 17 #newcollectorbk Holiday Party: Thursday, November 19, 6 – 9pm   No phone calls please.  We look forward to seeing your submissions! 
October at Ground Floor Gallery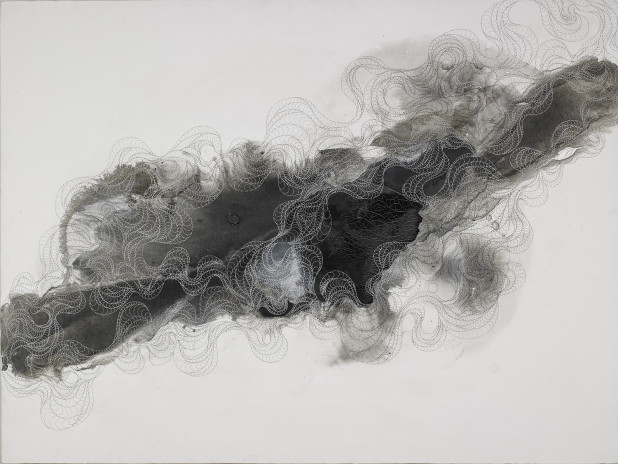 Save the Date: Beat Nite Gowanus  
Friday, October 16, 6 -10pm Our "Made in Gowanus" exhibition opening + music by Moore & Sons + specialty cocktails!   Artists: Natalie Adgnot, Ai Campbell, Veronique Gambier, Sara Jones & Sui Park.
Gowanus Open Studios Tour
Join us as we go behind-the-scenes to 5 – 7 different artist studios.  Meet the artists of the vibrant creative community in Gowanus, see work in progress or buy a piece straight from the studio! Saturday, October 17, 12 – 2:30pm $15 RSVP: info@groundfloorbk.com by October 15  *Artwork: Ai Campbell 
Recent Press for "You've Got Mail!"
Visit us this weekend or at next Thursday night's closing reception from 6 – 8pm!  The show officially closes on Sunday, August 16.
Artist Veronique Gambier at RES Brooklyn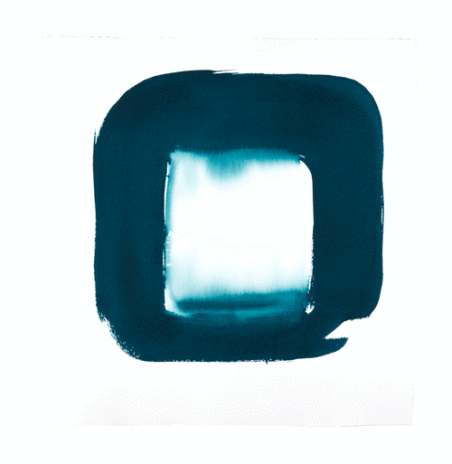 WHAT: Ground Floor Gallery, Park Slope's only commercial art gallery, has teamed up with RES Brooklyn, 5th Avenue's newest boutique real estate firm, to launch, "Artist in RES," a new exhibition program celebrating local artists. We're kicking off "Artist in RES" with a cocktail reception and artist salon featuring Gowanus-based artist, Veronique Gambier, and her new solo exhibition at the RES Brooklyn office! WHEN: Wednesday, July 8, 6 – 8pm WHERE: RES Brooklyn, 291 5th Avenue, Brooklyn, NY ***Meet the artist over cocktails and conversation!*** Please RSVP to krista@groundfloorbk.com by Tuesday, July 7.
OPEN CALL: "YOU'VE GOT MAIL" SUMMER SHOW – Deadline Extended to Friday, July 17
Taking a page from the recent exhibition,"Making History," – conceptualized by the dynamic Arts in Bushwick crew and co-
curated by Ground Floor Gallery, Co-Director, Krista Scenna – we will be accepting ALL submissions for our
summer mail art exhibition, "You've Got Mail"! We look forward to showing artists from near and far while
supporting 

Arts Gowanus

, the organization that advocates for our vibrant, neighboring community of artists and art
NO phone calls please. Reach us @groundfloorbk on Twitter, Facebook or Instagram if you have inquiries.  All work must be sized 4″ x 6″ (or up to 5″ x 7″ if framed)  Only ONE submission per artist You must have your name, email and phone number legibly written on the back. All work will be priced at $50. The gallery receives 50% commission.  10% of every sale will benefit Arts Gowanus (from gallery commission). The show will run from July 22 – August 16, 2015. Opening reception will be Wednesday, July 22, 6-8:30pm.  DO NOT drop off or email submissions.  ALL work must be mailed to the Ground Floor Gallery PO BOX between May 28 – July 17, 2015: PO Box 150-599 Brooklyn, NY 11215 If you'd like your (unsold) work returned, please include a self-addressed stamped envelope.
B.Y.O.D. – Bring Your Own Drawing to our Mini-Matisse Pop-up Show! EXTENDED
As Park Slope's only commercial gallery, we've learned that art can definitely be a family affair!
Please join us for "Mini-Matisse," a pop-up art show for families featuring work by local artists who create kid-friendly
illustrations, paintings, books and more.  Kids of all ages are invited to B.Y.O.D. – Bring Your Own Drawing – to
hang on our "Mini-Matisse" exhibition wall!  Due to the popularity of the show, the show will remain on view through
Visit our Co-Director, Krista Saunders Scenna, at SPRING / BREAK Art Show!
Independent curator and Ground Floor Gallery Co-Director, Krista Saunders Scenna, is curating the original, site-specific exhibition, "A Chorus of Objects," for this year's SPRING / BREAK Art Show!  The "curator-driven art fair" of Armory Arts Week, SPRING / BREAK Art Show has already emerged as a favorite destination during one of the most exciting weeks for contemporary art in New York City.  Visit springbreakartshow.com for more information and see you at booth 4017!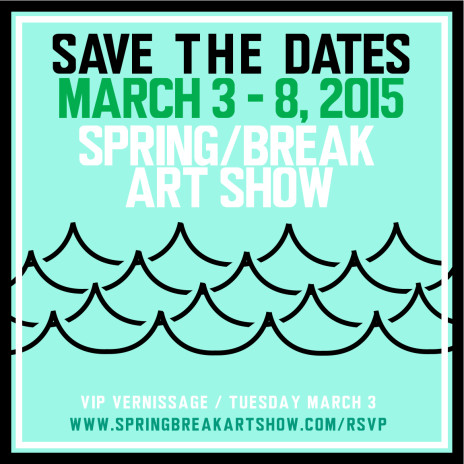 Our amNewYork "Wonderland" Holiday Show Feature!
"In Brooklyn, collecting art does not have to mean breaking the bank."  Precisely.  Read writer Sarah Allam's feature here!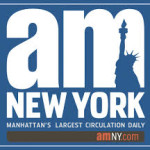 "Gowanus Wild" Extended + 2nd Walking Tour Added!
Due to the popularity of artist Miska Draskoczy's "Gowanus Wild" photography series depicting nature and wilderness in the industrial landscape of Gowanus,  we have extended the exhibition to Sunday, November 16!  We have also added a second free walking tour on November 16, 5 – 7pm as the November 9th tour is at capacity.  Please RSVP to krista.saunders@gmail.com to reserve your spot.  First come, first served!

"Gowanus Wild" Featured in Time Out New York!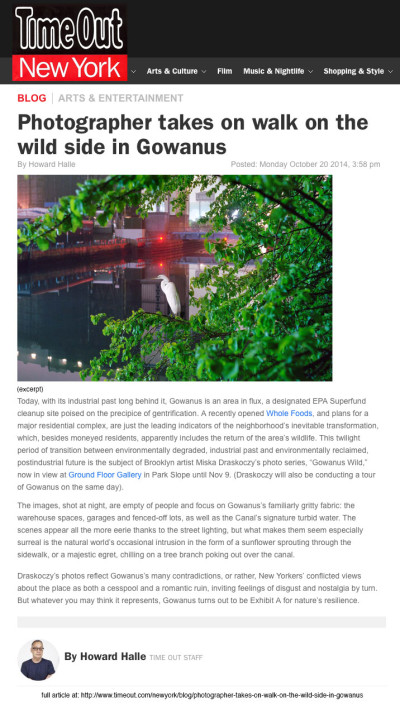 Read the full article here: http://www.timeout.com/newyork/blog/photographer-takes-on-walk-on-the-wild-side-in-gowanus
Artist Studio Tour + Lunch for New Collectors!
Curious about the artistic process?  Interested in meeting some of Brooklyn's talented artists?  
Join us behind-the-scenes during Gowanus Open Studios Weekend when local artists invite the general public into their studios!  We're celebrating Gowanus Open Studios by hosting a tour of several artist studios on Saturday, October 18 culminating in lunch and a new collectors' chat at

Backyard

restaurant in Park Slope.
Buy work by emerging artists straight from the studio or just hear about their process and see new work in progress!
$45 per person (lunch included)
"Staycation" Featured in ARTNET!
All the works are strong, but McCormack's huge meta-map is what makes this show a must-visit during your New York City summer staycation. —Benjamin Sutton Read the rest of the review here and then come see for yourself!
 Welcome the 5th Avenue BID!
The Park Slope 5th Avenue Business Improvement District (BID) is our new community business partner.  They'll be working out of our space Monday – Friday so drop in and say hi next time you're on "the Other 5th Avenue."   To help crown their new move, the BID interviewed us about Ground Floor past, present and future.  Check out our interview, here! And congratulations to designer Ashley Bryant, who won the 5th Ave. BID logo design contest!  Thanks for making us all look so good, Ashley!