Priority Mail: our Mail Art Summer Biennial
Closing Reception: Thursday, August 17, 6 – 8:30pm
On view through Sunday, August 27th, 2017
We are currently on summer break and reopen on Friday, September 8th. Thank you!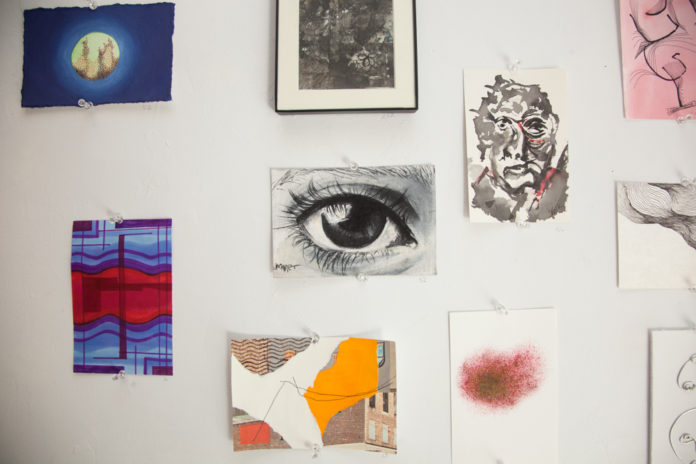 We are thrilled to announce the return of our summer show, "Priority Mail: our Mail Art Biennial!"  A sweeping survey of small, original artworks created by contemporary artists from across the globe, "Priority Mail" is a grand and inclusive gesture for our intimate gallery space in Park Slope, Brooklyn: ALL of the first 250 submissions mailed to the gallery will be accepted and shown in the exhibition!
In the spirit of inclusion and accessibility, all artworks will be priced at $100 and 10% of profits from the exhibition will be donated to our friends at Arts Gowanus: the dedicated, local organization that advocates for our vibrant community of artists and creatives.  
We look forward to showing artists from near and far while supporting our local talents as well!
See available works HERE.
PARTICIPATING ARTISTS:
Allan Bealy
Alicia Degener
Amanda Grace Finkel
Amir Hariri
Amy Wetsch
Andra Samelson
Andreas Tomblin
Andre Pace
Arielle Jennings
B. Ashley
B.E. Hogan
Barbara Marks
Bethanie Irons
Betty Hart
Brittany Godin
Camille Laoang
Cara Enteles
Caroline Blum
Caroline Kirkpatrick
Catherine S. Jones
Christina M. Watkins
Christopher Buckley
Christopher Fahey
Cora Jane Glasser
Curtis Widem
Daniel Anthony Vasquez
Daniel C. Boyer
Darcy Bert
David Cohen
Deanna Lee
Debra Jo Radke
Deborah Haden
Diana Leidel
Diane Englander
Dolores Feliz
Dre Beverley
Elise Warfield
Emanuele Pavarotti
Eunjin Kim
Gail Kolflat
Gina-Maria McCarthy
Gloria Ceren
Graham Edward Rhodes
Hanna Washburn
Hannah Raine-Brenner Leonard
Jackie Jiang
Jackie Lima
James Rose
Jamie Morales
Jamie Naqvi
Janice McDonnell
Jenna DiMari
Jenny Brown
Jerome Forsans
Jerry Todd
Jessica A. Wagner
Jessica Simorte
Jessica Soininen-Eddis
Jill Gewirtz
John Baber
John Richey
John Vieira
Jon Bunge
Josh Yates
Karl Lorenzen
Kathleen Dobrowsky
Ken Nelson
Kingsley Nwaeke
Lek Borja
Ling-lin Ku
Lisa Chamberlin
Lisa Wicka
Lorin Roser
Luis Alves
Manju Shandler
Mariana Soares da Silva
Martha Wirkijowski
Marty Carr
Max Manning
Meer Musa
Melissa Gryder
Michael Endicott
Michael R. Grine
Michael Wolf
Midori Okuyama
Mineko Yoshida
Monica Seldow
Natale Adgnot
Nina Kuo
Nina Meladandri
Patricia Fabricant
Patrick Jewell
Paul Behnke
Paul Hammacott
Pauline Galiana
Raphael Fenton-Spaid
Rebecca Shippee
Ria Bauwens
Rihomi Sato
Robert Levy
Rose Pike
Ryan Sarah Murphy
Samantha Robinson
Sarah Kemeter
Sarah Novio
Sarbani Ghosh
Sastry Sanyasayya
Si Chen
Sílvia Soares Boyer
Steven Nedboy
Susan Carr
Tegan Brozyn Roberts
Terrill Warrenburg
Tim Campbell
Tracy Penn
Vincent Pidone
Vicente Ortiz Cortez
Victoria Luzuriaga
Zaun Lee
PHOTOS: Nicholas Drew